What People Are Saying About Gail Rubin:
"Gail Rubin presents a different type of program that is extremely informative and entertaining at the same time…no chances of nodding off in her presentations!  She allows us to laugh at ourselves and our profession. At the same time,she challenges us to embark on a journey to be better at teaching and empowering our client families to channel and process their grief in ways that are perfect for them…not how we may think they need to grieve."  –  Gary Westerman,  Past President,  North Texas Funeral Directors Association
"I simply wanted to thank you for your participation in our annual conference – providing a wonderful presentation (very enjoyable),adding an important perspective and voice to the discussion panel,and being a good "around Joe" and sport in taking part in the entire experience. I'll point to your backhoe operation as Example A. I thoroughly enjoyed hosting you and getting to know you,if only briefly.  I only hope your experience was as joyful as your demeanor;it must be fun being you."  –  Dan Applegate,  Ohio Cemetery Association
"I just want you to know that I was at your Continuing Education seminar at Worsham College a few weeks ago. Just finished your book and enjoyed it a lot. It's well written and easy to read. Lots of info. Thanks for your insight."  –  Gene Cooney,  President,  Funeral Director Services Association of Great Chicago
"Gail Rubin's presentation,Laughing in the Face of Death:Funny Films for Funeral Planning,was highly entertaining and informative. She used film clips effectively to raise important issues and illustrate,with comedy,what could go wrong.  I am so glad that we invited Gail to speak at our annual program;people have thanked me for the "best meeting ever"and have told their friends about seeing this film clip show by the Doyenne of Death!"  –  Sandy Ward,  President,  Funeral Consumers Alliance of Western Massachusetts
"I loved your talk. You have a winsome personality and did a great job on Tuesday. My husband was impressed too. You present with a nice blend of humor and factual information. I forsee that my husband and I will do some planning. We are at that time in our lives,where we need to address end of life issues. You have helped us begin the conversation. Thanks so much."  –  Betty Begeal,  Albuquerque,  New Mexico
Thanks Gail,for all your help!

My husband and I first became acquainted with Gail Rubin when we read her book aloud together. We are in our mid to late sixties and have been married for 37 years. We felt that we had a few plans that we needed to think about and to act upon.

Gail's book,A Good Goodbye,was a tremendous help for us and we just knew from her writing that she would be a great person to help us. She writes with a good good humor and presents practical and specific methods for planning for the last big event of a lifetime. We contacted her through her web site and made an appointment to "go shopping"and,believe it or not,that turned out to be a simple and uplifting task.

Gail has helped us with finding and purchasing our final resting places and with several other things we needed to do. We're so happy about what we've accomplished with Gail's help. And we feel that in the process we have made a new friend too. Thanks Gail,for all your help!

Mary Carter and Gary Priester
Placitas,New Mexico
What People Are Saying About A Good Goodbye:
EXCELLENT GUIDE FOR THE GREAT GOOD-BYE!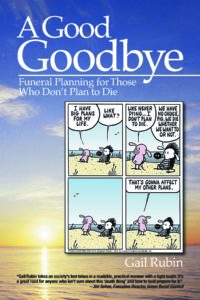 I don't know anyone who likes to think (let alone talk or read) about dying,but given the inevitability we all need to just buckle down and prepare! Finally,there's a upbeat guide book that brings a light touch to the "icky"subject everyone tries to avoid.
Gail is our perky party planner (ok,so it's for a party no one wants to go to) but hey,her humor will keep you reading and learning what most don't learn until a crisis or death –which is a really bad time to find out! I was shocked to read that only 24% of us preplan a funeral —and less than 46% tell their family their final wishes.
Oyyy,that's a lot of unnecessary heartache waiting to happen. I love when she says,"Just as talking about sex won't make you pregnant–talking about funerals won't make you dead!"Gail also includes important checklists and a free 10-page planning form downloadable from her website AGoodGoodbye.
I think it is a must-read for Baby Boomers…  and well,any adult still breathin'! Gail was a dynamic guest on my radio program,CopingWithCaregiving,on May 21,2011,which you can hear at `Listen via the archives',segment 2.
–Jacqueline Marcell,Author of 'Elder Rage',International Speaker on
Eldercare and Alzheimer's,Host of the 'Coping with Caregiving'Radio Show
It's My Party

I'm not about to die any time soon. I've worked out that if all goes well,I have approximately another 28 years of excitement and adventure before I finally kick the bucket. In the past I've been diligent about keeping my will up to date and I also have a living will tucked away somewhere,but after reading Gail Rubin's book,I decided to up the level of Instructions Upon My Death.

Both of my daughters know where to find copies of Instructions. They know what I want to have happen to my mortal remains,and where and how to find my last will and testament. They know what kind of memorial service to organize and which specific parts of it that they and their brother are responsible for. My nineteen-year old daughter has expressed strong opinions about the idea that my son will organize the food for the party. She complains that he's not organized. Too bad. It's my party.

Janet Shaw,Placitas,New Mexico
"Hi Pete:I wanted to let you know how much I'm enjoying the book you lent me,A Good Goodbye. In fact,I want to get my own so I can mark in it. It's the best of the several I've read on the subject of preparing for death.  So much stuff I didn't know,like how much energy cremation takes and how much CO2 is emitted –hardly a green disposal.  Thanks for putting me on to it."—Bob Kaiser,New Braunfels,Texas